You guys have really made my day. I never thought yesterday was going to be full of surprises, excitements and I was in the state of euphoria for the whole day. Words could not exactly describe how was my feeling when one after another people sent me messages wishing me on my 21st birthday at MSN, Skype and GoogleTalk. Here are all the messages I got that I managed to print screen and assemble all of them together.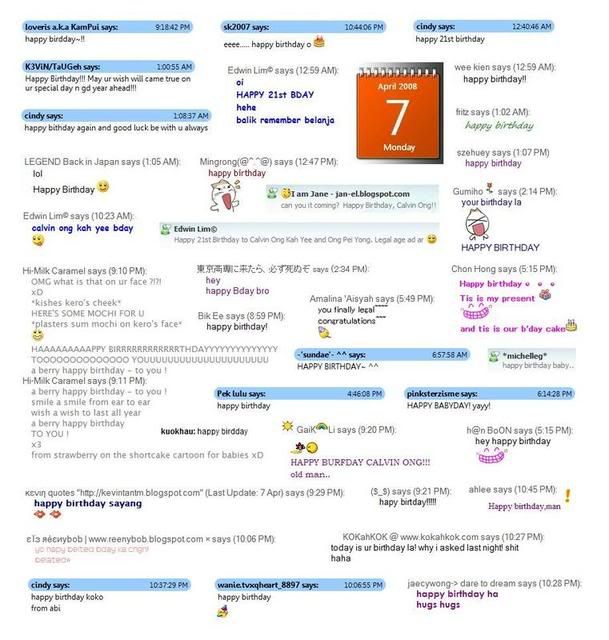 Could you find your message up there?

As you can see, most of the messages received were after 1am. In fact, I was waiting for any birthday wishes after twelve but there were just a few that I thought of going to bed, not until it turned 1am. That was when out of a sudden, dozens of messages flowed in. You guys purposely waited for the clock to strike midnight according to Malaysian time zone, didn't you?
Here is how the day went on my birthday yesterday. I was treated to a
yakiniku buffet
over the weekends and I thought that would be it. It was really great, in which I am very grateful for. Nothing much happened on the night before the clock strikes twelve and I thought perhaps not much people is actually aware of my birthday after all. That was not until I was asked to get to the kitchen with some of them telling me that there was a meeting for all the Malaysian students. As far as I am concern, there is no such meeting being carried out for more than one year I live in the hostel and I sensed something is planned for me by then. My early intuition was right. Everyone was already there when I entered the kitchen and they sang a birthday song to me. Never mind about them messing up with the high and low tone, and hitting the wrong note at the wrong time because I guess none of them will ever get through even the first round of Japanese Idol which does not exist yet, but it always feels nice to have a group of friends to sing a birthday song for you anytime.
I didn't receive any present during my birthday last year, mainly due to the fact that I just arrived in Nagaoka for just barely a few days. But this time, it increased by more than 700%. Here all what I got from some of my fellow friends in my college.
A red birthday card from Joann and Ming Jing with a series of cartoon of an elderly couple posing almost completely naked;
A Snoopy card which was signed by every single of my friends in my college;
A complete set of pink lingerie - the pair of extra-small-sized pink bra and panties was from Yan Kuang and Sodo, the Mongolian guy; while the pink boxers which has drawings of pandas making love in various position was from Joann, Wei Shen and Ming Jing;
A plastic samurai sword which has colourful chewing-gum inside from Shah.
Their presents are just so creative, aren't they? If not for the sword, my presents would look as if I just got a goodie bag from some nude camp party bash. No matter what, I love these present very much and thanks a million. Nothing much happened after that as we were just chit chatting away and that was all about it for the night. Just when it turned twelve, I got a call from Ming Jing telling me that I am one year older already wishing for my birthday. Fortunately, this time I didn't mistaken her for Joann 'coz both of them sound the same on the phone. One thing I noticed from most of the people who wished me is that they tend to point out about the legal age I have achieved by now. From there, it went one step too far by suggesting me to get married soon.
I was unofficially a kid before this.
This is another example.
I am a crab who can cook. Hmmm...
That was on the eve of my birthday.
The next morning, I woke up as usual, got myself ready for the first day of school and since there were nothing much on except for distributions of pamphlets and timetable for the new semestar plus some short briefings, we were allowed to return to our hostel by noon. I went to the office twice asking for any parcels, but to no avail. That parcel won't make it by the day, I thought. But I had expected it to be late as she had told me that she sent the parcel later than she should have. However, it was third time lucky for me, as the office girl handed me a parcel when I went again later that day.
I knew immediately that it was from her judging from the writing on the parcel. She thought that it would arrive to my place earlier than my big day, that she placed a short little note outside the presents.
Not all doctors have bad handwritings.
Guess what I got from her.
Another underwear. This time it was a dark red smooth boxers, to go a long with some Milk Shakes sweets, and a pop-out birthday card which was hand-made. I tried making a similar card for her birthday earlier this year, but it just seemed too hard to make one. And now I am getting something exactly what I had wanted to make her three months ago. By the way baby, the way you wrote about the chocolate cake was really cute. Make sure I get a real choc cake next time.
Later that evening, the five of us went for a surprise visit to Sodo's apartment. Apparently, his birthday was just a day before mine and we only knew about that yesterday. So, we thought of going out for a double-celebration dinner together with him. We walked to his apartment, which is located just about fifteen-minute walk from our college and chatted a while in his place. We opted for sushi at Kappa Sushi and here are a couple of pictures from the dinner.
From left: Birthday boy #1, Yan Kuang and Birthday boy #2 - Sodo
From left: Wei Shen, Ming Jing and Joann
I continued receiving birthday wishes from the rest of my friends when I got back to my room later that night. Many thanks for every single of you. Also not forgetting will be all the wishes sent at my Friendster, Facebook and my blog's chatbox. It would be a long list if I were to list everyone here, but you know who you are and lots of thank you to all of you guys. You guys are just fabulous. Last but not least, all the SMS-es I got yesterday from Kok Hong, Joann, Zhen Hui, Sodo and my senpai Fong Zyin. Thousand of apologises, just in case I have left out anyone here. Special thanks to mum for chatting with me, and
her
as well for staying up so late just to chat with me on the eve of my birthday, even though she was having her class the next morning. Love you baby, lots.
Deep from my sincere heart, I would like to thank all you guys for making my 21st birthday this year a meaningful one which I shall treasure it for the rest of my life. Honestly speaking, this stands out among the best birthday that I have had. I was overwhelmed by all the well-wishes and presents plus the dinners together. I was on a cloud nine for the whole day. The feeling was simply fantastic! Once again, thank you!
By the way, I got two people who sang the birthday song to me online. Who do you think are both of them?
*Edited: Mingrong also made a birthday entry for me in his blog. Lots of thanks from me*